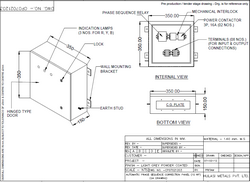 Hulasi make 3 phase Automatic Phase Sequence Corrector (Delux_APSC) Panel automatic correction of phase sequence.
The Hulasi make 3 phase Automatic Phase Sequence Corrector (APSC) Panel can be used in safe running of 3 phase UPS, elevators, lifts, air-conditioners, motors and many other 3 phase systems / equipment.
Hulasi make 3 phase Automatic Phase Sequence Corrector (APSC) Panels are available from 16A to 1250A rating.

Heavy duty AC-3 duty contractors are used in our APSC panels.


BIG Problem:
XXX Towers Sector - 56, Gurgaon 122011 is a condomonium of 19 high rise buildings with 1000 flats. They have DG sets AMF panels for power backup. But unfortunately when HUDA [grid] power supply is resumed, the phase sequence of the supply is often revered and all their three phase motors get affected badly.
Simple Solution:
Automatic phase sequence correction panel from Hanut India
June 2016: Hulasi has received repeat order from an MNC for supply of Automatic Phase Sequence Corrector panels [APSC] for use with their large 3phase industrial UPSs.

Hulasi APSC panel vs the competition

In conventional APSC panels during startup wrong contractor gets ON
for a small instance after that the right contractor gets ON. In many
situations and for many equipment power with reverse phase sequence
for even this small time is hazardous.

In new Hulasi APSC panels we have used special timers to overcome this
problem. In Hulasi APSC panels at all times only the right contractor
is ON and hence only the right phase sequence is supplied to the
connected equipment.

This advantage [feature] of Hulasi APSC panels is worth considering.
This feature is worth the small premium in price.

TOP